Fi's Children's Cookery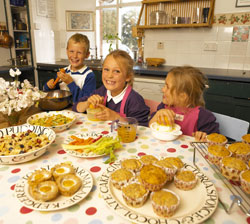 Adult supervision is the key to cooking with children. Small people develop dexterity and cooking skills at different rates. Practice makes perfect, and soon a five year old will be likely to successfully peel a potato or carrot. The simple act of preparing a meal can foster natural conversation and interactions which is half of what this exercise is all about. However, children have short attention spans and their jolly conversation can distract even a well organized grown-up! So here are some pointers to get you started:
Have everything ready before you start. 'Set up' on a tray, with all ingredients weighed and prepared in bowls and saucers ready to go.
Teach by example. Put on an apron and wash your hands and the child will follow. Explain that bugs like wet hands, so drying your hands is just as important as washing them.
To prevent bowls from slipping, place a dampened tea towel or cloth underneath. Have some paper towels to hand for spills.
Repeat instructions as often as needed – you will need patience to teach a child basic cooking skills, but it's worth it!
Expect a little mess. Treat it is an opportunity for getting your kitchen cleaned up.
Encourage children to clear up any spills quickly and to put things away as they finished with them. This is a useful exercise for most adults as well!
Recipes
Like this page? Please link to us and let the world know!