Rather Vegetabley Tomato Sauce
by Lili Bird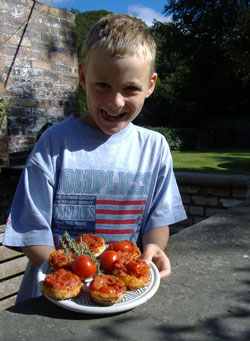 My mum really likes this recipe because it's got vegetables in it, she rambles on about all the healthy lifestyle stuff. Anyway the really important thing is that the carrots give it an original taste that even my older brother says is 'all right'. The only reason the Basil got put in was because we grow it on our windowsill, it's not really necessary, but like the carrots it is slightly different. I don't really know much about gardening and herbs, but mum says that it is relatively easy to grow them in window boxes. They add a fresh taste to food and mean that you don't need to add salt to food to get a flavour. If you prefer a darker red tomato sauce, add a teaspoon of tomato puree.
1 tablespoon olive oil
25g butter
Small onion finely diced
Stick celery finely diced
1x 400g tin tomatoes
40g grated carrot (1/2 small carrot)
Handful basil leaves (optional)
Freshly ground pepper
Heat the olive oil and butter in a pan.
Cook the onion and celery until they are soft.
Add the can of tomatoes and grated carrot.
Bring the sauce to the boil. Put a lid on the pan and simmer for around 10 minutes to break the tomatoes down.
Tear up the basil leaves and add them to the sauce, simmer for a minute but make sure that you don't cook the basil too much. Season with freshly ground pepper.
Goes nicely served with pasta and grated cheese.
ALWAYS HAVE A GROWN UP IN THE KITCHEN WHEN YOU COOK
---
Like this page? Please link to us and let the world know!