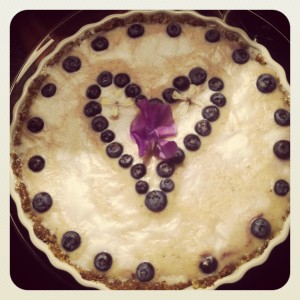 I love to make cakes, cookies and desserts that are delicious, pretty, and can be enjoyed by everyone around the dinner table. This means, it's got to be decadent enough that your 'regular Joe' will want a second piece, but it also has to be sugar-free, dairy-free and gluten-free so that your health-conscious girlfriend will have her share of the pie without any allergy issues.
Over the years, I've figured out how to do it, so that my dinner parties can be a place for everyone to relax and indulge, without anyone worrying about being unhealthy or missing out.
Here's a new recipe that includes one of my favourite ingredients, chocolate, in a super-healthy way that's also ridiculously luscious. It's best to use raw chocolate and raw cacao powder to make this tart, but if you can't find it, substitute with high quality organic dark chocolate.
You can find raw chocolate and raw cacao in Whole Foods Market stores. It's also available online in the UK and Europe at Raw Living, and in the USA at Raw Food World. Both are excellent independent businesses run by friends of mine, and both of these online stores offer high quality organic raw ingredients you can trust.
So, now you have your sources of ingredients, here's my Chocolate Blueberry Tart… enjoy!
Ingredients:
For the shell:
2 cups coconut flakes
1 cup cacao powder
2 tablespoons melted coconut oil
1/4 cup agave syrup or honey
1/2 teaspoon vanilla essence
a pinch of sea salt
For the filling:
2 cups fresh or frozen blueberries, thawed
1 cup dark chocolate, melted (if you can find it, use raw chocolate)
1/2 a ripe banana, mashed
1/4 cup water (or fruit juice)
3/4 cup melted coconut oil
3 tablespoons Irish moss gel (see note below)
1/4 creme fraiche (optional)
a pinch of cinnamon
a pinch of sea salt
For the icing:
1/2 cup cacao butter or white chocolate, melted
1/4 cup honey (optional)
1/4 teaspoon vanilla essence
Method:
1. Mix all of the tart shell ingredients thoroughly in a bowl.
2. Press into a 10″ / 25 cm tart dish to form a crust.
3. Refrigerate for at least an hour, or overnight.
4. In a blender, whizz all of the filling ingredients.
5. Taste a little, and add more spices and salt, to taste.
6. When it's ready, pour the filling into the shell.
7. Refrigerate the tart for at least four hours, but if possible, overnight.
8. When the tart has set, mix the icing ingredients.
9. Pour the icing onto the tart carefully.
10. Decorate with extra blueberries and flowers.
A Note about Irish Moss Gel:
Irish moss is a variety of seaweed, and it's easy to make an extremely versatile and super healthy gel out of it that you can keep in the fridge ready to be used any time. It's used as a thickener and a gelling agent, and is invaluable in tarts, quiches and in ice-cream to adjust the consistency to perfection. It's also known as carrageen, and is often listed in the ingredients of ice-cream.
It's the ingredient that transforms this tart filling from a smoothie into a creamy topping.
You can buy Irish moss online in the UK and Europe at Raw Living, and in the USA at Cafe Gratitude. It's also increasingly available in stores across America, but in the UK and Europe, your best bet is to get it from Raw Living.
Here's how you make Irish moss gel, which I keep in a mason jar in my fridge at all times.
Method:
Rinse 1/2 cup Irish moss several times to remove any sand. In a bowl, cover it with water and leave it to soak overnight on the counter, for about 8 hours. It will double in size. In the morning, discard the soaking water and throw the Irish moss in a blender. Add a cup of water and blend for about a minute, until it's turned into a smooth puree.
Transfer to a glass jar with a sealed lid, and keep in the fridge.
Please let us know what you think by leaving a comment...
Like this page? Please link to us and let the world know!