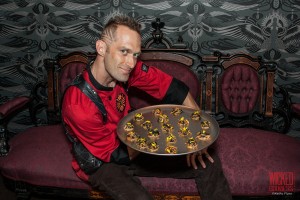 Allow me to introduce Chef Be*Live, a gentleman with a mission to add glamour to your dinner, infusing his raw recipes with roses, vanilla, sea vegetables and all manner of delectable and unusual ingredients…
I had the pleasure of experiencing his exquisite canapes this week at a very special event in Los Angeles at Century Guild, an art gallery that twilights as a fin de siecle salon. It was the worldwide release party for my new album, a collection of thirteen songs called The Coldwater Project, each one partnered with a non-profit who benefits from the proceeds of every song that's sold.
I had searched high and low to find a caterer who would provide vegan food that's elegant, delicious and affordable. Absolutely had to be pure vegan, as my partners for the first song from my new record are LUSH Cosmetics, who are a strictly vegetarian and eco-aware company, and Sea Shepherd Conservation Society, whose mission is to conserve marine wildlife, and are therefore a vegan organisation with compassionate cuisine at the core of their philosophy.
But it's easier said than done… I really wanted to cater to the tastes of my music and film industry guests, who are perhaps more often found eating at The Rainbow Room than Whole Foods… but my equal first priority was to introduce my friends to vegan food that was so lovely and delicious that they would relish the idea of adding more organic veggie options to their diets after the night had ended, and their own dietary choices could be exercised again.
Et viola! Chef Be*Live arrived and satisfied, indeed tantalised, everyone with his mermaid-inspired canapes of seaweed and strawberries!
I also must mention our amazing mixologist, the legendary Marc Danays, who was the head of the VIP room at London's Fabric for 8 years before moving to Venice, CA to head Zync Bar.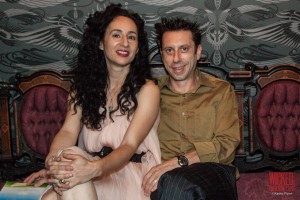 This is me with Marc, who created an ocean-faring cocktail called 'The Mermaid' with a base of whisky, fresh basil, and elderflowers, and 'The Mermaid's Friend' especially for me (as I don't drink alcohol)…
The balance of flavours in his drinks are so incredible, in that they're like a fine perfume; first one flavour appears, and then subtly another reveals itself, and then a third lingers on the palate after the first two have faded. And each flavour more subtle than the last…
Two extraordinary culinary masters, with wonderful synchronicity. I'm delighted to recommend them both!
xxx Ysanne
P.S. Both photos by the wonderful Kathy Flynn, who I also recommend highly for event and music photography!
Please let us know what you think by leaving a comment...
Like this page? Please link to us and let the world know!