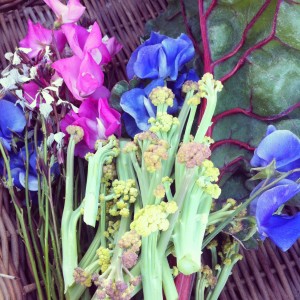 Fragrant sweetpea flowers are one of the hallmarks of an English Spring garden, so I'm delighted they're equally as happy to bloom in Malibu. I planted the little pea seeds around Halloween, and now have been rewarded with pink and blue flowers with a deliciously floral and deeply sweet scent.
The tiny white stars are actually arugula flowers, which are not only as pretty as a country day, but are also edible. They can be pinched into separate little white flowers and mixed into a green salad for a wow-factor. They taste exactly like arugula, but are milder than the leaves.
The big green leaves are ruby Swiss chard, which is a sturdy deep green vegetable that's great in soups and stir fries, but can also be eaten in salads, and the little spears are in fact Romanesco cauliflower fronds. Romanesco cauliflower is probably my favourite vegetable in terms of appearance, with its precisely symmetrical Fibonacci spirals. If the heads are left slightly longer, they sprout into broccoli-style florets, because Romanesco cauliflower is in fact considered a type of broccoli in Italy, which is where it's from.
Not shown in this picture are the Spring carrots and leeks which I also just pulled, but they're luscious and gently flavored for this sweet, baby vegetable time of year.
I'm going to finely chop, shred and dice everything and serve it with a garlic vinaigrette for a delectable and nutritious supper tonight.
If you have even the smallest window ledge, now's the perfect time to plant some seeds for your own future supper. Nothing like FRESH vegetables, and a 12″ x 12″ pot can easily grown a super fresh salad for two. Just fill with great organic soil and sprinkle mixed lettuce seeds on the top, about 1″ apart. Water and watch, and soon there will be baby greens ready for you to snip!
Please let us know what you think by leaving a comment...
Like this page? Please link to us and let the world know!