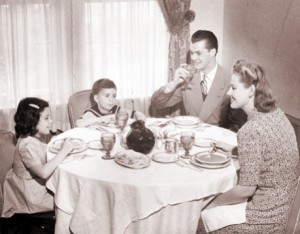 Between 20% and 25% of all meals in the USA are now consumed in the car, a horrific fact for physical health and human emotional connections. What's more, research has shown time and again that whether a family eats together or not has a greater impact on a child's well-being than race, gender and economic status.
Time at the Table is an extraordinary organization reconnecting families one table at a time. Based in the Brooklyn, New York, Time at the Table recognizes the challenges families face, from the classic traditional family unit to single adults, college dorms and every type of grouping in our modern culture.
I'm delighted they reached out to me for an interview, now available as a podcast. The interview lasts about 40 minutes and covers organic food and organic gardening as well as detailed questions about my personal life and, of course, my music career.
If you're in Los Angeles, please make a note of April 16th, as I'll be talking at the Los Angeles Convention Center at Go Green Expo. Meanwhile, listen in to the podcast and you'll hear a competition question…
The first 10 people to answer the question in the comments section under this blog post will receive complimentary tickets for Go Green Expo, including the full day of my talk and the entire program.
Please let us know what you think by leaving a comment...
Like this page? Please link to us and let the world know!