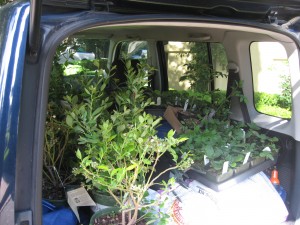 Fresh for Spring 2010, I'm going to show you how I grow organic food in a home garden. Spring comes early here in L.A. As I write, it's cloudy and overcast, around 60 degrees with a light breeze. Yesterday was the same, and tomorrow we're expecting thunderstorms. But last week, it was very warm and sunny, and as soon as the storms have passed, it will be very warm and sunny again. Los Angeles isn't quite the zero-seasons, constant sunshine location depicted in Hollywood myths, but it's close. The sunshine is always close at hand.
And so I can plant summer crops now, confident that there's absolutely no frost in sight. I'm planting a very first round of heirloom cherry tomatoes in red, yellow and black ready for small hands to reach out, pick and enjoy fresh from the vine. I'm planting Genovese basil to keep the tomatoes happy. When you plant tomatoes and basil together, both crops are tastier than if they had been planted in separate beds. They also protect each other from pests in a mutually beneficial arrangement that will ultimately lead to an awesome tomato basil sauce or tri-colore salad.
With the children in mind, I'm planting Alpine strawberries, a special wild variety with very small and tender fruits that are sweet sweet sweet… Alpine strawberries are a great reason to get planting. Even your local farmer's market isn't able to offer you these fragile gems. Their fragile skins and juiciness don't allow the fruits to be transported further than from the plant to your mouth. In addition, I'm planting a few varieties of strawberries that bear giant fruit, just for fun. It'll be cool to see baby Alpines on a platter alongside giant Fragrarias, especially with luscious organic cream on the side.
I'm excited about the blueberry bushes too. I'm planting a mixture of early ripening varieties which should be offering ripe blueberries for breakfast by early June. I've planted them shallowly, adding gypsum to the existing garden soil to loosen the clay clumps, and amending the soil further with an organic acid potting mix.
And last but not least, the tender greens bed. There's a small area of ground that doesn't get much sun, and I hate to see it lying empty. Lettuces and gourmet greens prefer to have some bright sunlight, which helps define their rich array of hues, but they're content enough to make do with an area of soil that doesn't get that much sun. I'm going to plant a bigger bed of lucky lettuces in another location, but for now, I'm planting this small shaded area with salad greens because it's empty which won't do, and because it's right by the children's favorite corner of the garden. They'll be able to watch them grow quickly, because it takes between three and four weeks for them to grow from seed to totally eatable baby greens. Now that's exciting!
Please let us know what you think by leaving a comment...
Like this page? Please link to us and let the world know!