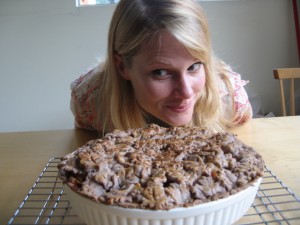 Wheat-free, dairy-free and sugar-free… this is an apple pie that tastes delicious, but is so light that you can eat an enormous delicious piece and not have to worry about sugar-crashes or feeling gloopy.
It has a sugar-cookie style crumb to the crust thanks to a mix of buckwheat and spelt flour, and has plenty of natural sweetness due to the organic Granny Smiths and Bosc pear it's filled with, plus some coconut sugar.
Coconut sugar is a traditional organic food that's new to me, but well known in Indonesia. It's been made for thousands of years from the sweet nectar sap from the flowers on coconut palms. Men climb the palms, and make a slit in the base of each flower to drain off the liquid while leaving the flower where it is. The liquid is then boiled vigorously, and gets more and more condensed as it cooks until it becomes like toffee. Then it's ground into grains that resemble unrefined sugar.
It has a rich caramel taste that's like toffee. It's much less sweeter than regular sugar, and also less sweet than honey or maple syrup. And it's much gentler in terms of glycemic index – it won't make you crash and burn like regular sugar. Coconut sugar is distributed in the USA by Essential Living Foods.
My pie is made even better because I've made the top crust by cutting the pastry into little oak and maple leaf shapes, layering the leaves to form a pretty pie, and adding a pair of acorns on top as a finishing touch. No wonder my friend Joelle looks so pleased… an apple pie full of locally-harvested all-American organic fruit that's fit for Thanksgiving!
I'm so thankful to have access to these healthful ingredients, to share this pie and future pies like this with kindhearted friends, and to have been welcomed into this abundant, sacred land that is now my home.
Please let us know what you think by leaving a comment...
Like this page? Please link to us and let the world know!