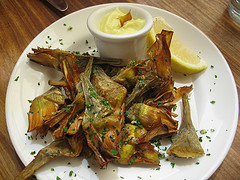 Eccolo is a fine restaurant in Berkeley serving fresh local produce in simple delicious ways. So simple, so delicious. Here are their Roman-style fried artichokes, served with home made with aïoli. Chef / owner Christopher Lee isn't doing rocket science here… He's just using the freshest seasonal ingredients in time-tested recipes. Fabulously stuffed sandwiches, perfect salads, classic Italian entrées. To make his fried artichokes, simply heat a pan of high oleic acid safflower oil, throw in some baby artichokes that have been quartered and had their coarse tips and hair removed, and remove them from the oil in about a minute, depending on the tenderness of the flowers. Easy!

Eccolo, 1820 Fourth Street, Berkeley, California, 94710
Please let us know what you think by leaving a comment...
Like this page? Please link to us and let the world know!