Parlour Princess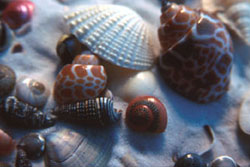 Founded by hairdresser Angela Lenci, the Parlour is a small health and beauty center offering a multitude of treatments including reiki, aromatherapy massage, Indian head massage and lots of hair and beauty treatments. The salon is a great combination of modern starkness and rich grandeur. The white walls are offset with an expanse of cerise, a purple resin floor and some luxurious crystal chandeliers. There is a main window-lined room for grooming, and separate rooms for intimate treatments like massages and waxing. This includes a double-couch room for grooming and gossip for two friends or lovers.
On my first trip I sampled a Hair Smoothie, with a facial on my following visit a week later.
Firstly, I was treated to a nice warm shampoo made with organic orange and basil to stimulate and cleanse London from my follicles. Next, the Hair Smoothie was prepared and applied. Freshly chopped organic banana, organic honey and organic milk were whizzed up with deep conditioners by Modern Organic Products hair care range. The smoothie mixture was then deftly applied to my hair and scalp with gorgeously relaxing massage strokes.
After a plastic cap was wrapped over the goo, I sat and enjoyed some of the stylish magazines to hand for about half an hour. Then it was off to the basin again to rinse the mixture off. A quick spritz of organic leave-in conditioner and I wended my way to meet some friends, feeling relaxed and happy.
Although the in-salon experience was thoroughly relaxing and rejuvenating, I was a little disappointed with the results. As the evening progressed, my styled locks went ballistic with their new-found freedom, much to the amusement of my pals!
However, I returned to the Parlour, intrigued by a Dermalogica Psychic Facial. My therapist was the very vibrant Nita, a beautician of twenty years who exudes confidence and experience. Being a facial virgin, I had very little idea of what to expect. Firstly, there was a short questionnaire covering general medical background plus questions about my current skincare regime (or lack of it!). Next Nita whisked me off to an intimate and warm treatment room, and soon I was lying on a comfy couch, topless and cozily toweled.
The treatment involved a lot of Dermalogica lotions and potions, artfully applied in deliciously relaxing strokes. Dermalogica is a skin care system researched and developed by the International Dermal Institute. Although the products are not organic and do not contain any organic ingredients, they are much more in tune with an organic lifestyle than most other skin care ranges. Dermalogica products do not contain mineral oils or lanolin, artificial colours or fragrances, alcohol or formaldehyde.
I was thoroughly cleansed and toned, masked and extracted, massaged and exfoliated. The psychic part of the experience was twofold: Nita's intuitive selection of appropriate products for the different area of my facial skin, and a technique called Face Mapping. This is based on the notion that your body can be mapped to your face, in the same way that reflexology relates your body to your feet. Nita was able to pick up on clues to my general health from the location of various lumps and bumps on my face.
All in all, I'd recommend the Parlour's modern health and beauty approach to hectic Londoners looking for an hour or two of well earned relaxation treatments. A great experience.
---
The Parlour
3 Ravey Street
Shoreditch
London EC2A 4QP
Tel: 020 7729 6969
www.theparlouruk.com
Like this page? Please link to us and let the world know!