Biodynamic Course in the UK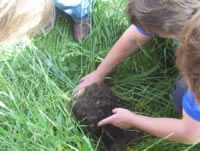 by Lynette West
I have been studying, writing and teaching Biodynamic Farming and Gardening in Australia for the past fifteen years. I have used the income from the courses which I deliver to provide the funds required to further develop the teaching curriculum. I am very committed to furthering the understanding and implementation of the biodynamic system as this method of farming and gardening brings a great deal of benefits to every living organism on our planet. Implementation of this method results in sustainable, long term production which leads to healthy soils, plants, animals and people.
As well as developing and delivering training courses for Biodynamic Farming and Gardening, I work as a consultant to Mulloon Creek Natural Farms, a 6,000 acre Biodynamic farm just outside Canberra.
Last year Tony Coote, the owner of Mulloon Creek Natural Farms, met with HRH Prince Charles. They had the opportunity to have an in-depth conversation regarding biodynamic agriculture. I then travelled to the UK with Tony and visited both High Grove and the Duchy Home Farm.
I have now been offered the opportunity to present the Foundation Course for Biodynamic Farming and Gardening at the Duchy Home Farm in September. This is a very exciting development. After nearly 15 years of curriculum development and study this is the first time that the Biodynamic Education Centre courses have been offered outside Australia.
This course is unique in that it presents a very common sense approach to Biodynamics which can then be easily learnt and put into practice.
Details of the course are as follows:
Foundation course for Biodynamic Farming and Gardening; a competency based training program.
Dates for the course are:
Level One. Saturday 23rd and Sunday 24th September 2006
Level Two. Saturday 30th September and Sunday 1st October 2006
Level Three. Saturday 7th and Sunday 8th October 2006
Venue:
Duchy Home Farm
Tetbury, England
Contact:
Biodynamic Agricultural Association
Tel/Fax: 01453 759501
Web: www.biodynamiceducation.co.uk
---
If you would like further information about training programs conducted by the Biodynamic Education Centre please visit www.biodynamiceducation.co.uk
Like this page? Please link to us and let the world know!