Organic Chocolate - The Definitive Guide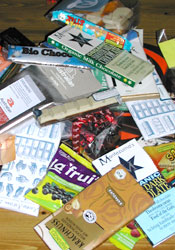 It's incredible how organic chocolate has taken off. Not a decade ago, organic chocolate didn't exist. Now there are a whole bunch of excellent organic chocolatiers out there. From everyday dark, milk and white chocolate to exotic lime, chilli and salt bars, here's the definitive alphabetical guide to organic chocolate.
Alter Eco
Delicious fairtrade chocolate from this San Francisco-based fair trade company. Four varieties of fair trade chocolate, of which two are certified as organic. All four bars are made in Switzerland, home of fabulous smooth chocolate. All four list the ingredient names alongside the name of the country of origin. The two USDA certified organic bars are the Dark Chocolate Almond and the Dark Chocolate Velvet. The Dark Chocolate Almond is only 58% cocoa, but is warm and sophisticated with a wide palette of rich fruity flavour notes. The Dark Chocolate Velvet is actually a dark milk bar, with a whopping 46% cocoa, which is tons for a milk bar. The melted butter in this bar contributes to the creaminess. This is the one for me. This bar gets nine out of ten for a milk chocolate bar, with the Dark Almond getting about seven. That said, the packaging is a bit everyday health food shop, and I was disappointed about the plastic inner wrapper. Check out other Alter Eco foods, which include organic teas and gourmet grains such as coral rice.
Australian Dreamers
This Dutch company make lots of quality non-organic chocolates, but also the sublime Australian Dreamers organic praline selection. It gets top marks for packaging in terms of design, with some grumbles about the un-eco plastic bits. The aroma is pleasantly rounded and nutty, with stunning Aboriginal-style pictures on each of the big individual chocolates. They're melt in the mouth good, and taste sweet and heavenly. Overall, we give them nine out of ten.
Blanxart
A Spanish chocolatier that makes exceptional chocolate. As far as I know, these guys only make two kinds of chocolate bar: Chocolate Negro and Chocolate Leche. And why bother making any more when these are just so good?! The milk chocolate is smooth and creamy, perhaps a little on the sweet side, and with a treacley flavour from the raw sugar. It's nice, definitely good chocolate. But it's the dark chocolate that's the queen of the crop. At 72%, it's definitely high in cocoa, but not the highest percentage on the market. Which means it must be the quality of the beans that gives this bar such deep and rich earthy tones. Smooth and dark, with a pleasing snap, this is set to become one of my favourite organic dark chocolate bars. And I love the paper wrapper complete with a waxed paper inner wrapper. Very very classy. Perhaps nine out of ten for the dark, and seven and a half for the milk.
Booja Booja
Howe Pit, Norwich Road, Brooke, Norfolk, NR15 1HJ - Tel: 01508 558888
These extremely creamy vegan chocolates from come in lots of truffle varieties, including Midnight Espresso, Hazelnut Crunch, and Cognac Flambed Banana. The super-strong Champagne truffle is laced with rye alcohol, making them taste more like cognac, with effectively strong alcohol content… They're all quite earthy and bitter for such a gooey confectionary, and are covered in a loose cocoa flour. We had mixed feelings about the packaging, preferring the original round wooden box to the newer 'Black Magic' style cardboard box. Overall, we give them seven out of ten.
Chocaid
Heavenly fine Swiss milk and dark chocolate from an Irish company — and there's a good cause, too! For every bar you buy, 10p goes to the hunger relief project of your choice. This is a welcome addition to their non-organic charitable range that includes a Belgian chocolate world and a chocolate map of Africa in an ocean of white chocolate. They get ten out of ten, cos you can't knock chocolate for charidee…
The Chocolate Alchemist
Seriously luxurious and full-flavoured chocolate bars and chocolate chunks. Nice modern packaging combining transparent eco-friendly cellulose with contrasting graphics. Not so sure about the plastic box's eco credentials that the Choc Chunks are housed in, but other than that, looking good. Tasting divine, particularly the Brazil Nut and Sultana Chunky Bar that makes your standard Yorkie bar look like a wafer thin mint. No wonder it won Gold in the 2004 Great Taste Awards. We also like the Chilli Spicy Bar. Over all, we give them eight and a half out of ten.
The Chocolate Society
Simply fabulous plain and milk bars. Okay, the wrapper design isn't very exciting, but we liked the recipe inside the paper for a classic chocolate mousse. And once you get inside, you immediately know you've hit gold. A superbly rich aroma follows through to the smoothest, darkest, melt-in-the-mouth plain ole gorgeous chocolate bliss. An amazing ten out of ten.
Cocoa Loco
This tiny company make truffles and brownies with a sumptuousness that oozes luxury and loveliness. Run solely by a lady called Sarah Payne, everything about Cocoa Loco brownies and truffles shouts out 'Business Run By Serious Chocoholic'. Forget Pret a Manger's hollow 'Passionate About Food' claims. Sarah actually IS passionate about food. And chocolate in particular. The truffles ooze creamily just like they should. The brownies are moister than a moist thing. Soft and squidgy, chocolatey as they can possibly be. We give them nine out of ten, with a point off the bull's eye for being a wee bit on the sweet side. Oh, and they arrive packaged in bio-degradable bags with home-made sticky labels, plus they can send them gift-wrapped on request.
The Cocoa Tree
So pretty! The transparent plastic sleeve reveals a very simple range of bars, including the most grown up fruit and nut chocolate in the galaxy. Dried apricots, walnuts and sultanas lie half-exposed in the sweet brown stuff, lifting the slightly cloying texture and taste to nice new heights. This one gets seven out of ten.
Dagoba
Oregon may well turn out to be Heaven - the evidence is Dagoba chocolate. Every different flavour in this exclusively-organic range of dark, milk and white chocolate bars is exquisite. From their lavender and blueberries dark chocolate bar to the milk chocolate ginger-sweetness of the chai bar, every eating chocolate we tried was as near to perfection as we could imagine. And they make cooking chocolate, drinking chocolate (with or without chilli), and a few other goodies like dragees and chocolate syrup. Oh my, we're going to give them ten out of ten!
Delvaux
Belgium chocolate lozenges made in Surrey, individually wrapped and packaged in fantastique modern and stylish boxes. Fairly sweet plain and milk chocolates, with a nice aroma, good melt and excellent fruity taste. Eight out of ten.
Duchy Originals
We like it. Grown up and stylish dinner party treats in handy wipe-clean boxes. Individual chocolate thins, superb chocolate coated biscuits, and heavenly chocolate coated mixed nuts. Big question mark about what the Duchy of Cornwall has got to do with the ingredients — cocoa, sugar, macadamia nuts, etc etc. It's great that the Duchy Originals brand is raising awareness and cash for organics, but we're concerned about a completely non-Cornish product gaining shelf-space from strong branding of our monarch-to-be. Politics aside, the products are excellent, on the sweet side, with great melting and tasting chocolates made in Britain by Ackermans. Seven out of ten.
Endangered Species
A lovely concept. Organic and ethically traded chocolate bars, with 10% of net profits going directly to charities that help endangered species, including Chimp Haven and National Wildlife Federation. This Indianapolis-based company is now the best selling chocolate brand in the American natural products market, so it's very cool that they're spreading the conservation message far and wide. However, I have to be honest and say this is not my favourite chocolate in terms of taste. The many different flavoured bars and unflavoured bars are made from chocolate that's manufactured with a mainstream American palate in mind. I found it to be sweet and bland, without the intensity or complexity of very fine chocolate. Without doubt better than Hershey's by a long way, but nothing that got